It can be hard to help seniors from far away, but there are a few effective ways that loved ones can ensure they are healthy, including adding in-home care services. This service allows seniors to get the attention and help they need while also keeping them in their homes, which is significant since continued independence is key to overall quality of life.
Continue reading to learn ways that friends and family can help seniors who live far away and the perks of in-home care.
Regular Communication: It's important to stay in touch by calling, video chatting, sending emails, or using message apps. Regular contact helps seniors feel connected and valued, and it also lets loved ones know how they're doing and if their health or living situation has changed.
Scheduling Medical Visits: Since seniors' medical needs might change rapidly, having in-home care to help them make medical appointments and keep track of their medications is key. In addition, the home care team can help transport to the appointments if needed.
Budgeting Assistance: Seniors may need help keeping track of their money, paying their bills, and sticking to their budget. Loved ones can help by setting up online banking, automating bill payments, or even hiring a local financial expert.
Grocery Shopping: Ensuring seniors have access to healthy food is significant. Thankfully, with in-home care, seniors have help getting the nutrition they need and more. The home care team can create healthy meal plans, prep food, or even cook.
Encourage Socialization: Socialization plays a significant role in seniors' quality of life. Whether it's in person or online, they need to have consistent interaction to feel fulfilled. Socialization can help fight against feelings of depression and loneliness. When seniors have in-home care, they gain built-in socialization.
Transportation Help: Loved ones can research ridesharing services, community shuttles, or volunteer driver programs to help seniors get to doctor's appointments and social events when in-home care isn't available. However, this help in the home gives seniors peace of mind that they don't have to ride with strangers.
Safety Issues: Seniors with in-home care gain the help they need to ensure their home is safe. In addition, loved ones can explore what additions could be added to the house when they visit, such as grab bars, non-slip flooring, motion-activated lights, and more.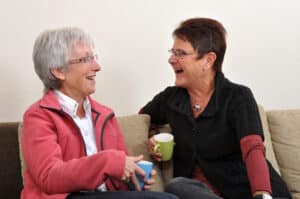 In-home care offers professional services that help seniors in their homes in many ways. Trained caregivers can help with many of the issues listed above, plus light housekeeping, assistance with daily living skills, and more. Home care services can be made to fit the needs of each person and can also provide much-needed companionship and emotional support. When loved ones can't live near seniors, providing them with a strong support system is key. To find out more about in-home care, loved ones should seek services near where their loved ones live and talk to seniors to assess how they feel about receiving care.
Sources: https://www.nia.nih.gov/health/getting-started-long-distance-caregiving
https://www.aarp.org/caregiving/basics/info-2019/long-distance-care.html
https://fortune.com/well/2023/06/04/long-distance-caregiving-tips/
Senior Solutions Home Care is a Trusted Home Care Agency serving Nashville, Brentwood, Nolensville, Gallatin, Hendersonville, Smyrna, Murfreesboro, Mount Juliet, Lebanon, Goodlettsville, Davidson County, and surrounding areas.
Latest posts by seniorsolutionshomecarestaff
(see all)