When your loved one chooses to age in place, it can be a hard thing to understand and accept. However, it's your loved one's choice, and you must support them in the best way possible. One thing you can do for your loved one is help simplify their lives so that way a professional has an easier time helping them. A companion care at home provider can be someone who also helps your senior live a fuller and simpler life while also being a friend and someone your senior can rely on while you're away.
Here are some tips to help simplify your loved one's life.
Companion Care at Home Can Start Meal Planning
When your loved one lives alone, it can be hard to decide what to eat, and it can seem like a waste of time to only cook for one person. However, your loved one should eat a well-rounded diet that includes many fresh fruits and vegetables. If your loved one needs help cooking, it's time to encourage them to sit down at the beginning of the week, and think about what they want to eat, and then you or their companion care at home aide can prepare it in advance. They may want to pre-chop all of the vegetables or bake things to reheat. Either way, this will help a senior know what is for dinner and help them stick to a routine that will help keep their life running smoothly while aging in place.
Setting Reminders
Your senior may find setting reminders using Alexa or their phones practical. This will help them get up on time, eat breakfast, take medication, and much more. If your loved one doesn't want to use either of these devices, that's okay. Write down a daily plan on a calendar and have companion care at home keep track of the time. They can help gently remind your loved one when they should eat or do other important things.
Start Monitoring Mental Health
If you're not with your senior, often, that's okay; this is something that companion care at home can easily do. It's important to start monitoring mental health to make sure your loved one is still happy with their lives and the routines they create. If you start to notice they are unhappy, then things start becoming too complicated, which can make their moods worse. Always find out what is bothering them and what solutions are to make things easier.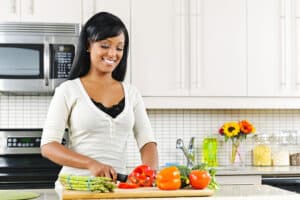 Talk to Doctors
No senior can manage medical conditions on their own; they need a doctor's help. If your senior is refusing to go to the doctor, it will not only make their life more complicated; it can impact their overall health negatively. One of the easiest ways to simplify a senior's life as they age is by ensuring they have a doctor they trust and like to talk to. This should be a doctor who focuses on senior health and has a good rapport with your loved one. If your senior needs help getting to appointments, you need to look into shuttles for them or ask if their companion care at home can provide non-emergency transportation.
Senior Solutions Home Care is a Trusted Home Care Agency serving Nashville, Brentwood, Nolensville, Gallatin, Hendersonville, Smyrna, Murfreesboro, Mount Juliet, Lebanon, Goodlettsville, Davidson County, and surrounding areas.
Latest posts by seniorsolutionshomecarestaff
(see all)