The older a person gets, the more likely they will need some type of home care. In fact, seniors, as they approach 80, are highly likely to have used or needed some type of home care already in their lives. Veterans are no different and they can turn to veterans care at home for support.
Some veterans may not have the financial resources to be able to afford home care. Whereas other individuals — regular men and women, just like you and me — may not have the financial support to pay for home care, either, for some qualifying veterans they might be eligible for the Aid and Attendance benefit.
What is the Aid and Attendance pension benefit for veterans care at home services?
This is a pension developed by the Veterans Administration following World War I. Its initial purpose was to help soldiers who had been injured during battle get the in-home care they needed, even if they couldn't afford it.
Since then, over the past century, the pension program has expanded and now provides financial assistance for care to veterans of all ages. Now, not all veterans qualify.
Which veterans are eligible for Aid and Attendance benefits?
Those who are considered wartime veterans. In other words, a veteran does not need to have been in combat, but their time of service needs to have overlapped an official time of combat the United States was engaged in by at least one day. So, a veteran could have served his or her last day of active duty service on the very first day of the Gulf War. They would be eligible based on that criteria.
Is that all? No.
The veteran needs to be honorably discharged from service and have served at least 90 days of active duty in one of the branches of the United States Military.
Is that it? No.
The veteran's combined income and assets must not exceed a specific threshold as set forth by the VA. This threshold value can change from one year to the next, so it's important to understand what it is (currently). It's also vital that veterans realize their primary residence is not (typically) used in the calculation of their total assets. The only assets that are used are savings and other assets that can be quickly converted into cash.
Is that all? No.
Veterans under 65 need to be considered completely disabled in order to be eligible for Aid and Attendance benefits. Veterans 65 and over need to have a documentable requirement for in-home care. This is usually provided by a doctor's recommendation.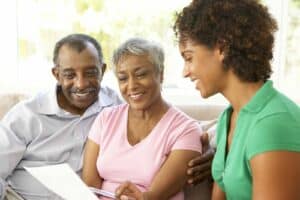 What about a veteran's spouse or surviving widow?
Absolutely, the VA does provide financial support to veteran's spouses and surviving widows, provided that the veteran is eligible for Aid and Attendance benefits himself or herself. The financial support for spouses and surviving widows is somewhat less than what a qualifying veteran would receive, but even the smallest amount can make the biggest difference in the lives of those who need veterans care at home support and have been struggling to pay for it.
For those who may benefit from veterans care at home, qualifying veterans should be encouraged to submit an application for Aid and Attendance benefits as soon as they can.
Senior Solutions Home Care is a Trusted Home Care Agency serving Nashville, Brentwood, Nolensville, Gallatin, Hendersonville, Smyrna, Murfreesboro, Mount Juliet, Lebanon, Goodlettsville, Davidson County, and surrounding areas.
Latest posts by seniorsolutionshomecarestaff
(see all)