Providing Companion Care at Home in Nashville, Brentwood, Nolensville, Gallatin, Hendersonville, Smyrna, Murfreesboro, Mount Juliet, Lebanon, Goodlettsville, Davidson County, and surrounding areas.
Fill out our contact form
How can we help? Provide the following information and we will respond to you shortly.
What Is Home Care in Gallatin?
You'll find that home care in Nashville, TN is the compassionate and personalized solution for ensuring your loved ones receive the highest quality of care in the comfort of their own homes. Seniors in Nashville can benefit greatly from the range of home care services available to them. These services include assistance with daily activities such as bathing, dressing, and meal preparation, as well as medication reminders and transportation to medical appointments. 
Not only does non-medical home care provide companionship, but it also offers assistance with daily tasks and support such as:
Meal preparation

Housekeeping

Errand running 

Grocery Shopping

Laundry

Ensures seniors are safe

Keeps seniors comfortable

Provides emotional support 

Provides social interaction 

Alleviating feelings of loneliness or isolation 
From companionship to daily living assistance, companion care at home ensures seniors are able to remain safe and independent at home for many years to come.
Companion Care for Seniors in Gallatin
Companion care for seniors in Nashville provides a valuable service that focuses on enhancing the quality of life for individuals in need. These compassionate caregivers offer emotional support, engaging activities, and meaningful connections to help seniors maintain their independence and enjoy a fulfilling life at home.
Whether it's going for walks, playing games, or simply having a conversation, companion care ensures that seniors have someone they can rely on for companionship and assistance. With their caring nature and dedication, these caregivers create a warm and inclusive environment that promotes overall well-being. By providing a friendly and supportive presence, companion care enables seniors to lead a more fulfilling and enjoyable life in the comfort of their own home.
Companion care is an invaluable service that makes it possible for seniors to continue living in their own homes as they age. It helps ease the burden on family members while providing physical and emotional support to those who need it most. With the right assistance and resources, aging in place can become a reality for many seniors.
Personal Care Services in Gallatin
There's an array of personal care options available for the elderly in Nashville, TN. Seniors in need of assistance can find a range of senior solutions tailored to their specific needs. Home care services offer a convenient and comfortable option for seniors who wish to remain in the familiar surroundings of their own homes.
These services provide assistance with daily activities such as bathing, dressing, meal preparation, medication reminders, and light housekeeping. Caregivers are trained to provide compassionate and personalized care, ensuring the safety and well-being of their clients. 
With home care, seniors can maintain their independence while receiving the support they need. Whether it's a few hours a day or around-the-clock care, there are flexible options available to meet the individual needs of each senior.
Tips to Make Senior Home Care Work for Your Loved One
First and foremost, it's important to understand the individual needs of each senior. This means assessing their physical, mental, and emotional health and current level of independence. Listen carefully to their concerns and prioritize their goals.
Communication is key – look for someone who is patient, compassionate, and reliable. Additionally, ensure that the caregiver has an understanding of safety protocols when providing care in the home.
To make sure everything runs smoothly during the companion care process:
Establish clear expectations from both parties

Set boundaries

Create a schedule

Encourage open communication between everyone involved

Establish trust

Address any issues or concerns immediately

Maintain respect on both sides

Respect each other's time and space

Show appreciation for one another's efforts
Having these tips in mind will help you create a successful experience with companion care at home that ensures your senior loved one can safely stay in their own home while receiving much needed companionship. With the right preparation and attitude, you can provide your senior with quality care while also allowing them to maintain their sense of independence as they age in place.
When looking for hospitals near Nashville, TN, it's important to consider the proximity and quality of healthcare facilities in the area. For those seeking senior home care, personal care, companion care, or in-home care services, having access to nearby hospitals is crucial. Nashville is fortunate to have several reputable hospitals that cater to the needs of seniors.
Some notable hospitals in the area include Vanderbilt University Medical Center, Saint Thomas West Hospital, and TriStar Centennial Medical Center. These hospitals offer a wide range of medical services and are known for their exceptional patient care.
With their close proximity to Nashville, seniors and their families can feel confident knowing that they have access to top-notch healthcare facilities when needed.
At Senior Solutions, we have refined our management skills and developed high standards to ensure the best care for our clients and their families. Find out what makes us different.
Available for long or short-term care, our caregivers are required to receive ongoing skills training, and have all passed both state and national background checks.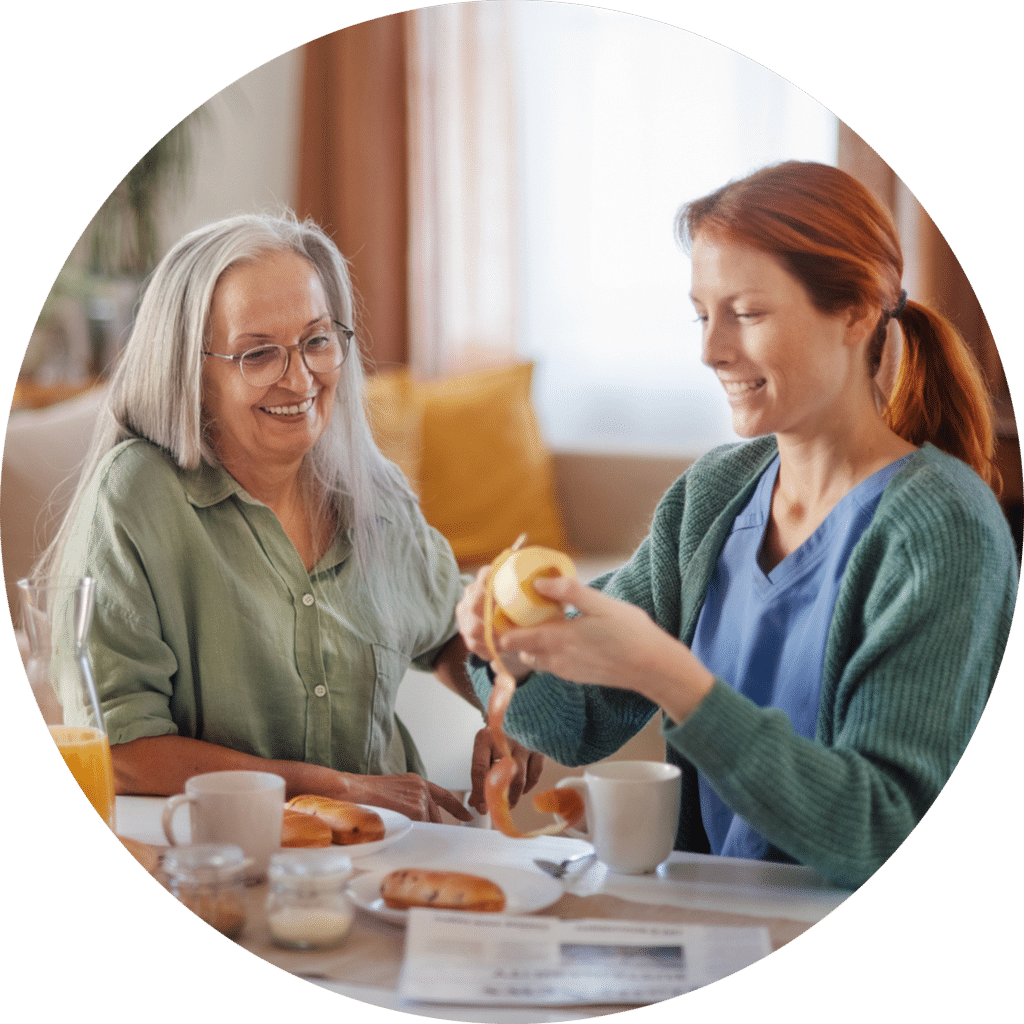 We offer a variety of solutions and services—all customized to your specific wants and needs! We're here to serve your family with comprehensive care so you don't have to navigate the challenges of aging alone.
Benefits Of Home Care for Seniors in Gallatin
For seniors wanting to age in place, non-medical companion care at home can provide a world of benefits. Not only does it offer comfort and companionship, but it also provides important assistance with day-to-day tasks.
First of all, non-medical home care gives seniors the assurance that they are safe and secure at home. 
Caregivers can check in regularly to monitor their health and wellbeing, as well as make sure they take medications on time and eat nutritious meals. 
They can also provide transportation to medical appointments or other errands so seniors don't have to worry about driving or navigating public transportation on their own.
In addition, non-medical caregivers can offer emotional support and conversation that many seniors miss out on due to social isolation or physical limitations. 
It's often difficult for seniors who live alone to stay connected with friends and family members; having a caregiver visit regularly helps fill the void. 
A good companion care provider will be able to recognize when additional assistance is needed and help coordinate services such as housekeeping, shopping, or personal care when necessary.
Senior Solutions is not a franchise company. We are family owned, and our experience, compassion, and quality of care are at a higher level because of our personal touch. We are here to serve you when you need us. Our services are available 24 hours a day, seven days a week, 365 days a year. All of our caregivers are thoroughly screened, insured, and bonded. They're also our employees, meaning that we handle all the details: taxes, insurance, and backup support whenever it's needed.
We use a Care Managed Approach. You and your family will have access to geriatric care managers and senior advisers who will become part of your care team. We can coordinate with your doctors, specialists, and other professionals. At Senior Solutions Home Care, we take pride in our leadership team and all that they do for our company. Our leaders are trained in all aspects of our business and are constantly educating themselves on the healthcare and home care industries as a whole.
Immerse yourself in the vibrant culture and rich history of Music City, where the rhythmic melodies of country music fill the air and the iconic landmarks beckon you to explore. Nashville, Tennessee, is a city that captivates both residents and visitors alike with its lively atmosphere and Southern charm.
This city offers a multitude of opportunities for seniors to engage in activities that promote lifelong learning and personal growth. Whether it's attending a live concert at the famous Grand Ole Opry, exploring the country music memorabilia at the Country Music Hall of Fame, or strolling through the picturesque gardens at Cheekwood Estate and Gardens, Nashville has something for everyone. With its warm and hospitable community, seniors in Nashville can truly feel at home while receiving the compassionate care they deserve.
Driving Directions from Gallatin to Senior Solutions
Take 

Red River Rd

 to 

TN-386 S

/

Long Hollow Pike
Continue on 

TN-386 S

. Take 

US-31E BYP S

 and 

I-65 S

 to 

TN-254 W

/

Old Hickory Blvd

 in 

Nashville

. Take exit 

74B

 from 

I-65 S
Continue on 

TN-254 W

/

Old Hickory Blvd

 to your destination in 

Brentwood
Senior Solutions Home Care
209 Ward Cir Ste 102, Brentwood, TN 37027
Map of Driving Directions from Gallatin to Senior Solutions
Senior Friendly Activities in Gallatin
With a plethora of engaging activities tailored for older adults, Nashville, TN is a city where seniors can truly embrace a vibrant and fulfilling lifestyle. From music festivals to cultural events, there is something for everyone to enjoy. Seniors can explore the vibrant music scene by attending live performances at the iconic Grand Ole Opry or the historic Ryman Auditorium. For those interested in history and art, the Frist Art Museum offers exhibits and programs specifically designed for seniors. Additionally, the beautiful parks and gardens in Nashville provide a serene environment for seniors to relax and connect with nature. With its warm and welcoming community, Nashville ensures that seniors have access to a wide range of activities that promote socialization, education, and overall well-being.