Every senior should continue to exercise even in their golden years, although what they are capable of now may be drastically different than what they used to do as a young adult. Just because their needs change does not mean they should stop working out; it just means they must find alternatives. If your loved one is preparing for surgery or has had multiple surgeries, they may need a professional physical therapist to help them learn to move their bodies and what workouts will be the best suited for them now. Having senior home care providers can help them with taking precautions.
Your loved one should know these tips to continue working out safely, especially solo.
Focus on Hydration with Senior Home Care Aides Help
Before your senior starts working out, they should focus on staying hydrated. Your senior loved one should drink enough fluids; dehydration has already kicked in when they become thirsty. Your loved one should be on a drinking routine, and this is something that senior home care can help with. Throughout the day, whether they are moving around or sitting to complete a puzzle, water or fluids should keep them hydrated nearby. It should always be within easy reach, and senior home care can help ensure they drink properly. Staying hydrated will help your loved one be able to exercise safely. Dehydration and exercise can be dire and often deadly.
Exercise With a Companion or Professional
One of the best things your senior can do to be safe during a workout is with a buddy. They may have friends who go to the same gym, or they can find walking buddies to go around the neighborhood together. This is good in case of emergencies or just for socialization. If your senior loved one has no friends or they are unsure what is safe, they should find a professional trainer or physical therapist to work out with. These professionals will help your loved one keep safe, help them keep hydrated, and teach them how their bodies work. It's a good way to remain safe as someone ages.
Always Listen To Your Body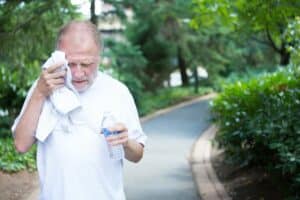 Seniors should take breaks when they need them. When you are younger, you are told to push through the pain and keep going; that's how you know you are truly working out. However, that is not a rule that a senior should follow, and it can have horrible consequences for doing that. Your loved ones should push themselves and work but also listen to their bodies. If they are tired, they should take a break, if they are thirsty, they should drink; and if they need to stop, they should go home to rest. A professional can teach your loved one to work out, but only a senior knows how something feels and knows when it is time to stop.
Talk To Doctors
Before a senior picks up a new exercise or workout, they should talk to their doctors first. These healthcare professionals will know all of the work your senior has done and will know about any health issues that may provide a challenge. If a doctor says a senior should not be doing something, your senior should always listen.
If you or an aging loved one are considering Senior Home Care Services in Smyrna TN please contact the caring staff at Senior Solutions Home Care. (615) 307-4509
Senior Solutions Home Care is a Trusted Home Care Agency serving Nashville, Brentwood, Nolensville, Gallatin, Hendersonville, Smyrna, Murfreesboro, Mount Juliet, Lebanon, Goodlettsville, Davidson County, and surrounding areas.
Latest posts by seniorsolutionshomecarestaff
(see all)