Despite your dad's desire to age in place without help, he's experiencing chronic arthritis pain. Your knowledge of arthritis is that it creates pain and stiffness in the joints. That's about all you know. How much do you know about the different types and would he benefit from home care services?
Osteoarthritis
Osteoarthritis is the most common form and occurs as the joints wear out with use. It's estimated that the average person walks around 75,000 miles in their lifetime. Each step, jump, squat, etc. creates a movement that creates wear and tear on a joint. When the cartilage degrades to the point that bones rub together, it's known as osteoarthritis.
This form of arthritis affects 32.5 million adults. The most common signs are aches and pains, stiffness, and decreased flexibility. It's typically treated by ensuring you get enough exercise, losing weight, and using over-the-counter pain NSAIDs to ease pain and inflammation.
Rheumatoid Arthritis
Rheumatoid arthritis is a form of arthritis where the body's immune system attacks healthy cells in the joints and some organs like the lungs and heart. It affects about 1.3 million adults. As the joints continue to be attacked, it can create permanent damage leading to chronic pain and deformities.
Medications are usually prescribed to help slow the damage to the joints. Physical activity and weight loss are other ways the disease is managed.
Gout
Gout is a form of arthritis where uric acid crystals build up in the joints and create extreme pain and inflammation. The joint of the big toe is often the area that's impacted the most. It affects about 9.2 million people in the U.S., mostly older adults and men.
As gout is excruciating, it impacts mobility. A diet that avoids red meat, shellfish, and alcoholic beverages is important. Anti-inflammatory medications like ibuprofen and prescriptions that lower the level of uric acid in the body are also common treatment methods.
Fibromyalgia
Fibromyalgia is most common in middle age and affects about 4 million people in the U.S. It's a form of arthritis where pain radiates all over the body and also leads to insomnia and fatigue. It's more common in people who have been diagnosed with rheumatoid arthritis or lupus.
If your dad has fibromyalgia, his doctor may prescribe medications to help manage the disease. Over-the-counter pain medications are also used. Reducing stress and increasing exercise are also advised.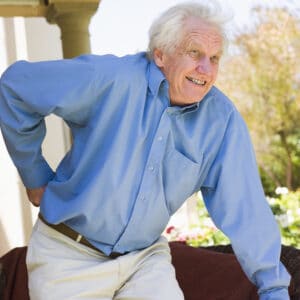 Whether your dad has one type of arthritis or several, he needs supportive care around the home. There will be days when standing for extended periods is too much. Arrange home care services to help him with tasks that require more flexibility and balance, such as laundry, vacuuming, and meal preparation.
If he wants to help out, he can, but he'll have a caregiver to monitor him and help prevent a fall or excessive pain. Reach out to our home care advisor to learn more.
Sources: https://www.independent.co.uk/news/health/step-count-adult-lifetime-round-world-three-times-b573751.html
https://www.cdc.gov/arthritis/basics/osteoarthritis.htm
https://www.ncbi.nlm.nih.gov/pmc/articles/PMC8348893/
https://jamanetwork.com/journals/jama/fullarticle/2787544
If you or an aging loved one are considering Home Care Services in Nashville TN please contact the caring staff at Senior Solutions Home Care. (615) 307-4509
Senior Solutions Home Care is a Trusted Home Care Agency serving Nashville, Brentwood, Nolensville, Gallatin, Hendersonville, Smyrna, Murfreesboro, Mount Juliet, Lebanon, Goodlettsville, Davidson County, and surrounding areas.
Latest posts by seniorsolutionshomecarestaff
(see all)